Varig forsikring Lyn & Hurtig NGP 2022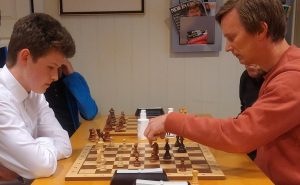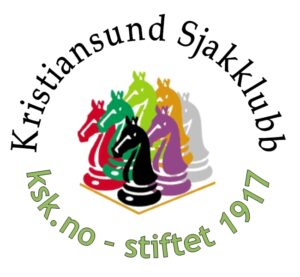 Kristiansund Sjakklubb arrangerte to NGP-turneringer i helgen, begge støttet av Varig forsikring Nordmøre og Romsdal.
Varig forsikring Lyn NGP lørdag 30. april ble vunnet av Joachim Berg-Jensen med 13 av 14 mulige poeng. Sindre Lyngsaunet Ytrestøyl og Håkon Bentsen delte andreplassen med sine 12½ poeng, mens Tor Wetle W. Hoem på fjerdeplass hadde 10 poeng.
Søndag 1. mai var det tid for Varig forsikring Hurtig NGP. Her gikk Ytrestøyl til topps med 5 poeng på 6 runder. Vegard Simensen ble nummer to med 4½ poeng, mens Norleif Stuhaug og Berg-Jensen endte på 4 poeng.
Varig forsikring Lyn NGP                     
1. Joachim Berg-Jensen  Trondheim     13.0/14
2. Sindre L. Ytrestøyl  Kristiansund  12.5
2. Håkon Bentsen        Molde         12.5
4. Tor Wetle W. Hoem    Molde         10.0
5. Iver Halse           Kristiansund   8.5
(15 deltakere)

Varig forsikring Hurtig NGP                
1. Sindre L. Ytrestøyl  Kristiansund  5.0/6
2. Vegard Simensen      Kristiansund  4.5
3. Norleif Stuhaug      Volda Ørsta   4.0
4. Joachim Berg-Jensen  Trondheim     4.0
5. Tore Kristiansen     Kristiansund  3.5
(14 deltakere)