Deltakerlisten for Norway Chess 2022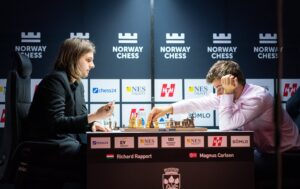 Deltakerlisten for Norway Chess 2022 i Stavanger ble offentliggjort for et par dager siden.
Kjell Madland, grunnlegger av Norway Chess, sier følgende i en pressemelding: «Vi er stolt av å ønske toppsjakkspillere velkommen tilbake til Stavanger til det som vil bli en spennende turnering i Finansparken. I år feirer vi 10 års turneringsjubileum og vi ser frem til mange sidearrangementer og en flott feiring av sjakk og Norway Chess».
GM Magnus Carlsen (2864) er høyest ratet foran GM Wesley So (USA 2778), GM Richard Rapport (HUN 2763), GM Anish Giri (NED 2773) og GM Shakhriyar Mamedyravov (AZE 2771). Alle disse er på topp-10 i verden. Deretter følger GM Maxime Vachier-Lagrave (FRA 2758) og GM Teimour Rajabov (AZE 2753).
Både Rapport og Radjabov skal delta i den svært viktige Kandidatturneringen som starter i Madrid 16. juni. Norway Chess blir altså den siste oppvarmingen før disse to skal prøve å kvalifisere seg for neste VM-match.
De tre siste i feltet er eksverdensmester GM Viswanathan Anand (IND 2751), GM Veselin Topalov (BUL 2730) og GM Wang Hao (CHN 2744). Alle tre har spilt lite de siste to årene, og Wang Hao la offisielt opp etter Kandidatturneringen 2021.
Årets utgave av Norway Chess starter med en lynsjakkturnering 30. mai. Første runde spilles 31. mai og siste runde 10. juni. Parallelt vil det bli arrangert en åpen 9-runders GM-turnering fra 3. til 10. juni: Norway Chess Open.
Les mer om Norway Chess hos Chess24.
Deltakerliste Norway Chess 2022       
1. GM Magnus Carlsen         NOR  2864
2. GM Wesley So              USA  2778
3. GM Richard Rapport        HUN  2776
4. GM Anish Giri             NED  2773
5. GM Shakhriyar Mamedyravov AZE  2771
6. GM Maxime Vachier-Lagrave FRA  2758
7. GM Teimour Rajabov        AZE  2753
8. GM Viswanathan Anand      IND  2751
9. GM Veselin Topalov        BUL  2730
10.GM Wang Hao               CHN  2744