Neutralize The Catalan av Tor Fredrik Kaasen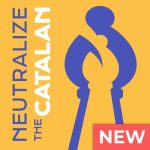 Chessable, en del av Play Magnus-konsernet, har etterhvert blitt ledende på online sjakktrening i form av interaktive kurs.
Tidligere har GM Magnus Carlsen, GM Johan-Sebastian Christiansen og IM Sebastian Mihajlov laget kurs for Chessable. Nå er også IM Tor Fredrik Kaasen ute med et nytt kurs, Neutralize The Catalan. Tidspunktet passer bra, siden Katalansk var Carlsens hovedvåpen med hvit under fjorårets VM-match mot Nepomniachtchi.
Kaasens kurs er helt nytt og ble lansert i dag: Neutralize The Catalan.